Get smart home
products to protect
what matters most
Customize your home security
with
24/7 alarm monitoring
Vivint Smart Home Offers:
Vivint remote mobile access
Get video push notification
Smart home automation
1080p HD video quality
24/7 continuous video recording
Choose your property type
Homeowner
Rental
Commercial
Other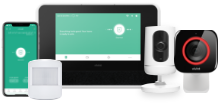 Call to Get a Free 1-on-1
Smart Home Security Consultation
Are you interested in remote video access?
How many doors do you want to monitor?
1 Door
2 Doors
3 Doors +
Not Sure
We're preparing your free quote!
Processing..
Property Type:
Processing..
Remote video access:
Processing..
Doors to Monitor:
Where do we send your free quote?